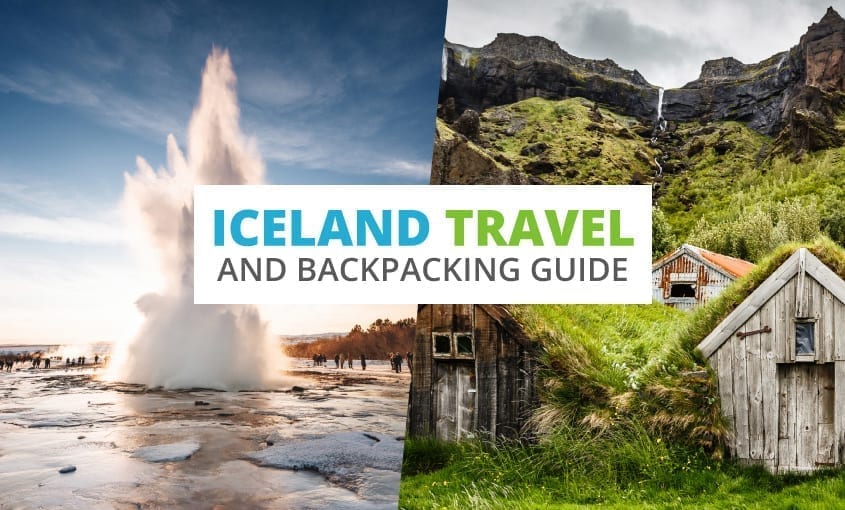 Backpacking Iceland
Looking for important travel information while backpacking around Iceland? Here you will find information on working in Iceland, entry visas, Iceland hostels, and much more.
Table of Contents

Facts About Iceland
Iceland is fast becoming one of Europe's more popular travel destinations. Located in the North Atlantic this large mountainous island is one of the most volcanically active countries in the world; Hekla, in the south, has erupted around sixteen times.
Iceland boasts stunning scenery with spectacular lakes, rivers, waterfalls, mountains and hot springs. Reykjavik, the capital, is a busy cosmopolitan city yet manages to retain its rich cultural heritage. The city boasts some of the best nightlife in the whole of Europe with pubs and clubs open until the early hours. Surrounded by mountains, in an area of geothermal hot springs this unique destination is perfect for tourists wanting something a little different. Do be warned though, plenty of spending money is needed for your trip; Iceland is one of the most expensive destinations in the whole of Europe.
During the summer Iceland has a whole host of options for travellers including sailing, hiking and whale watching and during the winter skiing and glacier tours are popular. Snowmobile tours provide a great opportunity to mix sightseeing and adventure and are becoming increasingly popular with tourists. The colourful northern lights are an amazing sight, if you're lucky enough to catch them. Viewings are most likely between autumn and spring. Hunting for this magnificent display in the sky is a once in a life time experience.
For those after a relaxing trip, Iceland has numerous outdoor swimming pools which are heated naturally by thermal hot springs. Some locations also offer saunas, solariums and Jacuzzis. There is plenty to see off the beaten track with some of the most memorable and fantastic sights Iceland has to offer slightly further a field. Many excursions are offered by tour companies to explore and admire the country's unspoilt and natural wonders.
Currency Icelandic Krona (1GBP= 134.37)
Time Zone GMT +0
Language Icelandic, but English is widely Spoken
Telephone Services Dialling Code +354 International Access Code 00
Emergency Numbers 112
Climate
Iceland's summers are fairly mild and winters are very cold. From the end of May to the beginning of August in the capital Reykjavik, there are about 24 hours of constant daylight. Iceland's weather can be very changeable, at any time of the year there may be sunshine, rain, snow and drizzle all in the same day. During the summer there can be no actual darkness and with average July temperatures reaching around 12°C it's not as cold as you would imagine. The northern lights are visible in autumn and early winter.
Things to see and do
Iceland's capital, Reykjavik, literally means 'Smoky Bay', named such because of the geothermal springs and boiling natural geysers that lie beneath the capital, which have ensured that no fuels need to be burned and the air is crisp, clean and free of pollution.
The city is small and can easily be explored on foot. Despite its size there is much to see and do and it is becoming increasingly popular as a city break destination. Being the tourist capital of Iceland, Reykjavik has some of the best nightlife in the whole of Europe with most bars providing plenty of live music and lively pubs and clubs staying open until seven or eight am at the weekend. Don't miss the opportunity to take a dip in one of Reykjavik's geothermal swimming pools to relax, refresh and rejuvenate you after a night out!
The Old town has a number of historic buildings including galleries and art museums. The National Gallery houses work by Icelandic and international artists. Many visitors choose to head for Halgrimur's church which is in the centre of Reykjavik and gives a spectacular view of the city.
From the capital it is possible to visit some stunning natural wonders. The 'Golden Circle' is Iceland's most popular sightseeing tour. It usually starts with Pingvellir National Park which is one of the most historical and beautiful areas in the country. Then visitors head for the Geysir hot spring area which is one of the greatest natural attractions Iceland has to offer with its bubbling, colourful mud pools with hissing steam vents and hot and cold springs. Strokkur erupts around every ten minutes and can reach heights of around 20-30 metres. The tour usually ends with a visit to Gulfoss; this is a double tiered stunning waterfall just a few miles from Geysir. On a sunny day stunning rainbows can be seen through the mist and drizzle and an even more impressive sight is when the waterfall turns to ice in the winter.
The Blue Lagoon is a forty minute drive south west of Reykjavik and is Iceland's most popular spa. The spa's facilities include an indoor and outdoor pool, a geothermal beach, lava caves and silica mud that have beneficial effects for sufferers of eczema and psoriasis. The water is 35°CC all year round and rich in minerals so why not experience the positive effects this lagoon can have on your skin.
Whale watching is a popular activity among tourists in Iceland; the clear cool North Atlantic is a great place to see the many different species of whales. Regular sights include killer whales and mink and if you're lucky some blue whales; dolphins and seals are often seen as well. The whale watching ports are located all over the coastline. Keflavik and Sandgerði are only thirty minutes drive from Reykjavik.
For further details on excursions from Reykjavik check out Reykjavik Excursions, this also allows you to book certain excursions online.
Travel
The national carrier, Icelandair, has direct and regular flights to Reykjavik from London's Heathrow and Stansted airports. You may find a cheaper fare however with Iceland Express which is a low cost airline with daily flights from Rejkjavik to Stansted. Iceland's main domestic airline Air Iceland (Flugfelag Islands), operates during the summer and winter months. It connects most major destinations with the capital Reykjavik.
It is possible to reach Iceland by ferry; however, there is no direct route. You must travel from Aberdeen to Shetland and the Faroe Islands with P&O Scottish Ferriesand then catch the Symril Line to Iceland.
Iceland has no railways and its road network is the least developed in the whole of Europe. Despite Iceland's wild and rugged terrain cyclists still attempt it and bicycles can be rented in most hotels, guesthouses and hostels.
A Reykjavik Tourist Card gives visitor's unlimited transport on buses and admission to a great selection of museums, galleries and to all thermal swimming pools in the capital.
Accommodation
For those looking for budget accommodation, hostels in Iceland offer clean and comfortable lodging open to people of all ages. There are 26 Hostelling International Hostels around Iceland and can be found at Hostelling International Iceland or in our hostels section. Guesthouses are also available and are a little more expensive than hostels but usually give you a little more room.
Iceland has hotels to suit everyone, from the simple satisfactory hotels to the luxurious and exclusive. However, all hotels in Iceland tend to be quite expensive. It is advisable that you book your accommodation before your arrival as hotel accommodation in Iceland is fairly limited and some become fully booked for the summer period.
There are many campsites in Iceland and are normally open from the beginning of June until the end of August, in some locations they stay open until the middle of September. All campgrounds have toilets and showers and there are many public pools which have Jacuzzis where you can unwind and relax.
Health
The standard of healthcare in Iceland is excellent and no vaccinations are required for entry into the country. The UK has a reciprocal agreement which entitles all British citizens to free emergency medical treatment providing a valid European Health Insurance Card (EHIC) is produced.
This has replaced the E111 which was no longer valid as of 31 December 2005. The EHIC gives access to state-provided medical treatment only, so it is advisable to take out comprehensive travel insurance before visiting Iceland. For information, and how to apply for an EHIC online, please check www.dh.gov.uk. It is advisable to take adequately warm and waterproof clothing with you to Iceland.
Entry Visas for Iceland
All visitors to Iceland require a passport valid for at least three months beyond their intended stay. British Citizens do not require visas and can stay in the country for up to three months and this stay can easily be extended by visiting the local police station or contact the Directorate of Immigration.
Icelandic Tourist Board
Laekjargata 3, 101 Reykjavik, Iceland
Tel: 535 5500. Fax: 535 5501. 
Website: www.icetourist.is 

Embassy of Iceland
2A Hans Street, London SW1X 0JE, UK
Tel: (020) 7259 3999. Fax: (020) 7245 9649.
Website: www.iceland.org
Opening hours: Mon-Fri 0930-1600; 0930-1200 (consular section).

British Embassy
Street address: Laufasvegur 31, 101 Reykjavik, Iceland
Postal address: PO Box 460, 121 Reykjavik, Iceland
Tel: 550 5100. Fax: 550 5105.
Foreigner Work Permits in Iceland
British citizens can look for work or set up a business provided they hold a ten year passport. To work or reside in Iceland for longer than three months, a residence and a work permit is required. These can be very difficult to obtain as Iceland had a rather strict immigration policy. Further information can be obtained by checking out The Directorate of Immigration in Reykjavik.
Employment in Iceland can be found in bars, restaurants, hotels and hostels. Jobs can also be found in the fishing villages and towns around the coast of Iceland.
Au Pairs working in Iceland usually need some experience in childcare but will not have to speak Icelandic. Au pairs live with their host family and as well as looking after the children, they also take on basic domestic duties. Wages are often quite low but accommodation and meals are usually included.
How to Say Common Icelandic Phrases
Meeting People
English

Icelandic

Yes

Já

No

Nei

thank you

Þakka þér fyrir

you are welcome

Ekkert að þakka

please

Gjörðu svo vel

excuse me

Afsakið

hello

Halló

goodbye

Bless

good morning

Góðan daginn

good night

Góða nótt

I do not understand

Ég skil ekki

Do you speak English

Talarðu ensku?

What is your name?

Hvað heitirðu?

Nice to meet you?

Komdu sæll (male)/sæl (female)

How are you?

Hvað segirðu gott?

Fine thank you

Ég segi allt gott, þakka þér fyrir
Methods of Transport
English

Icelandic

Where is…?

Hvar er … ?

How much does it cost?

Hvað kostar það?

Where is the bus station?

Hvar er biðstöðin?

Where is the bus stop?

Hvar er strætóstöðin?

Does this bus go to..?

Fer þessi rúta (strætó) til … ?

What time does it leave?

Hvenær fer hún?

What time does it arrive?

Hvenær kemur hún til?

bus

Strætó

Bus station

biðstöðin
Shopping
English

Icelandic

How much does this cost?

Hvað kostar það?

open

Opið

closed

Lokað
Food/Drink
English

Icelandic

water

Vatn

beer

Bjór

meat

Kjöt

fish

Fiskur

Bread

Brauð

Chocolate

Súkkulaði

Milk

Mjólk

Salt

Salt
Iceland Hostels
Hostels are a cheap form of accomodation, and so they are essential to backpackers and other budget travellers. We have compiled a list of hostels in Iceland to help you plan your journey. If you are looking for a hostel in Iceland, you've come to the right place.
Akureyri
Borgarnes
Djupivogur
Egilsstaethir
Grundarfjordur
Hofn
Hrutafjorethur
Hvammstangi
Hveragerethi
Hvolsvollur
Laugarvatn
Njarethvik
Nupsstaetharskogur
Onundarfjorethur
Porshofn
Reykjavik
Selfoss
Seyethisfjorethur
Skagafjorethur
Stafafell
Stykkisholmur
Suethursveit
Vik
There you have it, the ultimate Iceland backpacking guide. We hope you have found all the information you need for backpacking around Iceland.