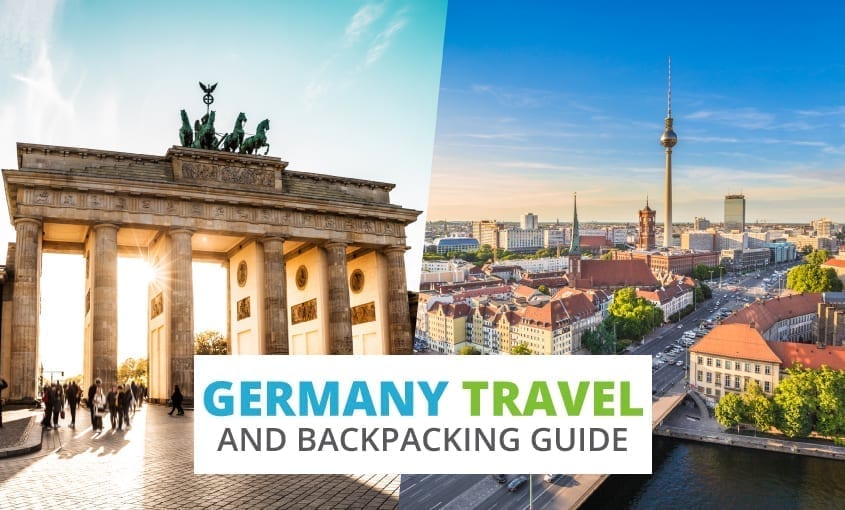 Backpacking Germany
Looking for important travel information while backpacking around Germany? Here you will find information on working in Germany, entry visas, Germany hostels, and much more.
Table of Contents

Facts About Germany
Germany is one of the most influential countries in the EU, since the 1990 reunification of East and West Germany the country has become a leading power in Europe. As such you can expect a very high standard of life, perhaps a little pricey but compared to the countries of the eastern block or the south Mediterranean you will have a cosmopolitan and comfortable time in Germany.
A large part of German history is of course the 2 world wars and much of the attractions that people come to Germany for are from the World War II period. However far from glorifying war many of the sights are amongst the most moving in the world.
Germany, being a leading light of Western Europe of course has the bustling, busy and up to date nightlife that would be expected in a modern European country. Indeed Germany has several time been a leading light especially in dance music, boasting acts such as Kraftwerk and Alec Empire and being the spiritual home of gabba (very fast techno) you won't find many places better than Germany to party.
Currency: Euro (€) 1 euro = 100 cents
Time Zone: GMT + 1
Language: German
Telephone Services: Country code +49, International access code 00
Emergency Numbers: 112 for all services
Climate
During the summer months the days are warm and the nights are generally quite cool making Germany quite a temperate place to come too, however rain can occur at any time during the year and much like Britain, Germany has it's fair share of summer thunder storms. The autumn is also relatively mild and winters are not too cold, this means if you take sensible clothes (such as a sweater and rain coat at all times) Germany's climate is on the whole quite hospitable. In the winter high areas such as the alps can actually experience short spells of warm weather (warmer than the lowland anyway) due to the fohn which is a warm southern wind.
Things to see and do
A hub for travel throughout Europe, a centre of finance and capital of Germany, Berlin is a worthwhile visit on any tour. Berlin is best explored on foot where you will have time to appreciate the 50 year old preserved architecture of the east part of Berlin and the tasteful modern rejuvenation projects which have brought Berlin back from a crippled, divided city to the strong unified capital it is today. In Berlin you will be able to see such inspired buildings as the Reichstag the neo-Renaissance building which houses the German Parliament. The other benefit of Berlin is that it has the best night life and restaurants in the country. Be sure to schedule at least two days in Berlin as you mights need the second one to recover from the night before!
Munich is the next must see destination in Germany, noted for housing the worlds largest science and technology expo at the Deutsches Museum Munich still manages to keep a cultural identioty with more theatres than you will find anywhere else in the country. You will find traditional German beer halls in abundance here but if it all gets too claustrophobic the Englischer Garten offers the perfect place to relax. One of Europes largest city parks the "Garten" covers an area of nearly one and a half square miles. Lubeck is an often overlooked site in Germany, and far up in the northern state of Scleswig-Holstein you will find this to your taste if you like to get a little off the beaten track. Earning a place on UNESCO's world heritage list, Lubeck is a well restored medieval town, the old town suffered extensive damage during world war II but much of the city has been restored. Of particular interest the Marionettentheatre which is a captivating puppet theatre which really shouldn't be missed.
Travel
German train travel is efficient and comfortable but unfortunately these luxuries mean that German trains are also quite expensive. The network is run by Deutsche Bahn and covers most of Germany. Although expensive you can bring travel costs down by looking for good budget deals which are invariably on offer.
The happy weekend ticket (Schoens Wochenende Ticket) is a particularly good buy. This ticket allows travel for up to five people on local trains, all weekend for just over €20. You really can't get much better than this and even though the ticket is limited to second class with German trains this isn't really a problem.
There are German flexi-passes available which allow between 5 and 15 days travel within a 1 month period. These tickets are quite good value and there is a substantial discount for those under 25. If you have a European rail pass such as Interail or Eurail you will also be able to use these passes in Germany.
Germany has an extensive bus network which is marginally cheaper than travelling on the trains for long distances. The bus network is run by a variety of private local companies and you will find both domestic routes and routes out to major European destinations. Central bus stations for the most part will be located next to train stations and are normally clearly signposted with the word busbahnhoff.
Accommodation
As you would expect there is a vast selection of hotels scattered throughout Germany, these will normally be quite pricey so it is recommended to find alternative accommodation. A more affordable solution is a Pension which is a broad equivalent to a bed and breakfast and this is also a good way to meet some local people and get to integrate with the German culture a little more.
There are 640 youth hostels in Germany, these are open to members of any international youth hostel association such as the YHA. You can also apply for membership at the German Youth Hostel Association who also maintain listings for and regulate youth hostels. More information can be found on their website.
Health
Germany has an extremely good health service and anyone carrying a completed E111 and with a comprehensive travel insurance policy should have no problem getting state of the art treatment should it be required.
There are no known health risks present in Germany, there are no vaccinations recommended before visiting the country and the tap water can be considered safe to drink.
Useful Links
The German National Tourist Office provides travel information and advice for tourists visiting Germany.
The German Youth Hostel Association maintains listings and information on over 640 youth hostels throughout Germany.
Deutsche Bahn runs the countries efficient train network.
Entry Visas for Germany
EU or USA nationals will require a valid passport or national ID card for the duration of their stay. A visa is not required for visits of up to 3 months in duration. If you wish to stay in Germany for longer than this time, or if you intend to work in Germany you should contact the German Embassy.
Addresses
For visa and immigration related enquiries you should contact the German Embassy in London :
Embassy of the Federal Republic of Germany
23 Belgrave Square
London
SW1X 8PZ
Tel: (020) 7 824 1300
Fax: (020) 7 824 1435
You can find UK representation in Germany at the British Embassies in either Bonn, or Berlin. Passport and visa related enquiries are now centralised at a Dusseldorf branch which can be found at :
YorckStrasse 19
D-40476
Düsseldorf
Passport Section Tel: + [49] (30) 9448 238
Fax: + [49] (30) 48 81 90
Visa Section Tel + [49] (30) 9448 271
Fax: + [49] (30) 48 86 03
Foreigner Work Permits in Germany
EU nationals may enter and stay in Germany for up to 90 days without needing a Visa. If you intend to stay for longer than three months you will need to apply for a residence permit (aufenthaltsgenehmigung) for which you will require proof of having found somewhere to live. Within seven days of arriving in Germany you should obtain a certificate of registration (anmeldebestätigung). Furthermore, if you aim to work in a restaurant, bar, cafe etc. it is advisable to obtain a health certificate (gesundheitszeugnis).
Au Pairing
Au pairs in Germany work for about 25 hours a week and can expect to earn at least €210 (approx. €148) per month. Usual au pair duties include looking after children, taking them to and from school, as well as general household work such as cleaning. Au pairs are also usually expected to take part in a course, at a university for example, for a few hours a week. Au Pair International and Au Pair Network International are two agencies that can place EU nationals in au pair positions in Germany, but for a more extensive range of companies, see the Europa Pages website.
Teaching English
In most foreign-speaking countries you will find some openings for positions teaching English. The best places to look are probably language institutions, but there is no guarantee of work as jobs are usually very highly sought after. If you are serious about becoming an English teacher in another country it is worth training with TEFL to receive a qualification that will put you in better standing than those without.
Hotels and restaurants
Asking around and writing to various hotel companies listed in guidebooks may help you to find some temporary work, particularly during the summer months when tourism is high and demanding. Types of jobs in hotels include porters, kitchen staff, waiters and waitresses, and cleaning staff. A lot of hotels also provide employees with food and accommodation, but charges may be deducted from your monthly wage, which could average about €568 (approx. €400) a month.
As with hotel jobs, work in restaurants and pubs can most easily be found by enquiring in person and it is best to turn up early in the tourist season as vacancies may be quickly filled. Given that there are hotels, pubs etc. all throughout Germany there are no specific places that you should look first, but the busiest tourist areas are obviously cities such as Frankfurt, Munich, Berlin, and Hamburg.
Agricultural Work
German harvests offer less employment opportunities than in a lot of other European countries, but nevertheless if you are interested in this type of work it is worth checking farms and asking landowners in Altland, or along the French border, where apples, cherries, and grapes are grown. WWOOF is a voluntary organisation placing volunteers on organic farms throughout the world. Workers are provided with board and accommodation and must pay an annual membership of €10 to WWOOF, see their website for more details.
Working Holidays in Germany recruit volunteers for three to six months, usually attracting gap year students. Volunteers work in family hotels or family farms, and duties can include looking after animals and children, and tasks such as cooking. Since you will be working alongside other people, knowledge of German is useful and no doubt this type of work could improve such linguistic skills. Application details can be found on the Working Holidays website, see below.
Volunteering
As well as volunteer opportunities available on agricultural projects, a number of organisations arrange social work projects, such as Concordia whose volunteers work in groups with children and communities in a number of countries throughout the world. Projects last for up to three weeks, in the summer months. All volunteers are supplied with food and accommodation and are required to pay a fee of €75 to register with Concordia. The International Voluntary Service sets up workcamps for volunteers who participate in community schemes, including working with children, adults with special needs, and conservational issues. Again, food and accommodation are part of the package, but you will need to pay €15 membership and fund your own travel.
Useful Links
Europa Pages lists au pair agencies for Germany.
TEFL gives jobs teaching english abroad.
Wwoof.org gives information of voluntary work available on organic farms.
Working Holidays has information on all kinds of working holidays in Germany.
Concordia is one of the voluntary organisations in Europe.
Sci-ivs provides information about the International Voluntary Service.
How to Say Common German Phrases
Meeting People
English

German

yes

ja

no

nein

thank you

danke

you are welcome

bitte schön

please

bitte

excuse me

entschuldigen sie

hello

guten tag

goodbye

auf wiedersehen

good morning

guten morgen

good night

gute nacht

I do not understand

Ich verstehe nicht

Do you speak …

Sprechen sie…

English

Englisch

German

Deutsch

What is your name?

Wie heifen sie?

Nice to meet you?

Sehr erfreut

How are you?

Wie geht's?

good

gut

bad

schlecht
Directions
English

German

map

die karte

left

links

right

rechts

straight on

geradeaus

far

weit

near

nahe
Methods of Transport
English

German

Where is…?

Wo ist…?

How much is the fare?

Wieviel kostet die fahrkarte

ticket

die fahrkarte

A ticket to…, please

Eine fahrkarte nach…

Where are you going?

Wohin gehen sie?

Where do you live?

Wo wohnen sie?

Train

die bahn

bus

der bus

Underground

die U-Bahn

airport

der flughafen

train station

der bahnhof

bus station

der busbahnhof

Underground station

der U-Bahnhof

departure

die abfahrt

arrival

die ankunft

parking

parken
Time
English

German

What time is it?

Wie spät ist es?

Today

heute

yesterday

gestern

tomorrow

morgen
Accomodation
English

German

hotel

das hotel

room

das zimmer

reservation

die reservierung

Are there any vacancies?

Haben sie ein zimmer frei?

No vacancies

Ausgebucht

Passport

Reisepal
Places
English

German

post office

die post

bank

die bank

police station

polizeiwache

hospital

das krankenhaus

chemist

die apotheke

shop

das geschäft

restaurant

das restaurant

museum

das museum

church

die kirche

street

die strafe

square

der platz
Shopping
English

German

How much does this cost?

Wieviel kostet das?

I will buy it

Ich nehme es

I would like to buy…

ich würde gerne kaufen

Do you have…?

Haben sie…?

open

auf

closed

geschlossen

postcard

die postkarte

stamps

die briefmarke

little

wenig

lot

sehr viel

all

alles
Meals
English

German

breakfast

das frühstück

lunch

das mittagessen

dinner

das abendessen

vegetarian

vegetarisch

cheers!

prost!

The bill please

Die rechnung, bitte
Drinks