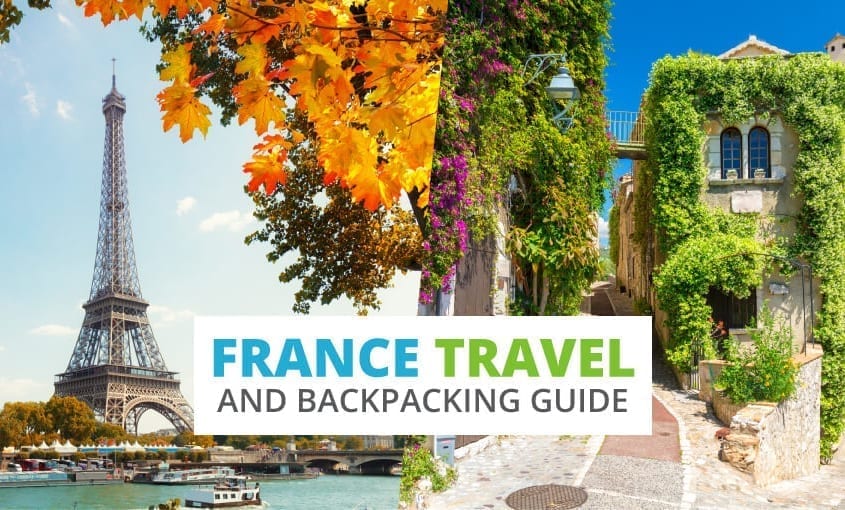 Backpacking France
Looking for important travel information while backpacking around France? Here you will find information on working in France, entry visas, France hostels, and much more.
Table of Contents

Facts About France
France draws more tourists and visitors than almost any other country. It is easy to see why this is the case, given France's reputation for fine wines, good food, high fashion and relaxed lifestyle.
Some of the highlights include the café culture found in most big cities, the celebrated Cannes Film Festival and the formidable fortress-monastery of Mont Saint Michel. Indeed, there is nothing quite like sitting in a Paris café with a bottle of wine or two and watching the bustle of Paris pass you by. The allure of such experiences, as well as sights like the Eiffel Tower, the finest in high fashion and arguably the best food in the world continually draw millions of visitors every year.
Currency: Euro (€) 1 euro = 100 cents
Time Zone: GMT + 1
Language: French
Telephone Services: County code +33, International access code 19
Emergency Numbers: 112 for all services
Climate
The climate in France is for the most part temperate. Winters are generally mild except for the northeast, which tends to be colder. The northwest of the country is prone to high humidity and frequent, often violent rain storms. Conversely, around mid-summer, particularly August, it can get very hot, and should be considered a bad time to travel anyway since most of the French are on holiday.
Things to see and do
Whether you're travelling to France, through Europe or across the world, Paris is a worthwhile stop, and it would be easy to spend weeks exploring all that Paris has to offer. There is, of course, the obligatory trip to the Eiffel Tower but there is plenty more to see and do.
Famous landmarks include the Arc de Triomphe, which spans over the tomb of the Unknown Soldier, the forbidding gothic architecture of the Notre Dame Cathedral and the picturesque Sacre Coeur. Other highlights are the Louvre, one of Europe's finest art galleries, home to Leonardo da Vinci's Mona Lisa, the Moulin Rouge, and boat tours along the Seine.
The Ardeche province is an excellent location to visit if you have the chance and offers some spectacular white water canoe expeditions. Some of these are long enough to last up to a few days and are really well worth the effort. Also in this area are some very spectacular caves which offer reasonably priced guided tours.
St Malo is one of Brittany's most renowned locations. Built on the site of an old piratical port, you will find plenty to do here including the Fort de la Cite, an ex-WWII German stronghold, and the Cathedrale Saint Vincent. St Malo is also particularly noted for its beaches, which are popular even with the French themselves. If that's not enough, Mont Saint Michel, a fortified Abbey, is just a short bus trip away and could easily be seen as a day trip from a few days spent based in St Malo.
If you are more adventurous and want to get away from the tourist crowds, you could try visiting Vezelay. This tiny walled town is surrounded by vineyards and farmland and was used as a muster point during the Crusades. The main attraction here is the Basilique Sainte Madeleine, which was believed to have housed the relics of Mary Magdelene during the Middle Ages. Every year there is a traditional celebration where the relics are paraded around the town by the devout priests of the abbey.
Alternatively, there is the mysterious Rennes-le-Châ teau. The church of this tiny town was heavily restored during the late 19th century by parish priest Sauniere. The source of Sauniere's money was, however, a mystery to all including his closest confidants. Sauniere died in 1917, leaving the secret of his wealth to his housekeeper, who promised to reveal it only on her death bed. Unfortunately, the housekeeper died of a stroke before being able to impart her secret. In a more sinister turn, Sauniere had made a confession to his priest on his death bed that was so shocking that Sauniere was refused the last rites. Now, theories range from buried Visigoth gold to ancient treasures of the Knights Templar to explain the source of Sauniere's mysterious income.
Travel
The French rail network is run by SNCF and the network is extensive and very efficient. You will find connections not just in France but also to major cities in other European countries. SNCF operates normal trains as well as TGVs, high-speed trains which reach 300km/h. These trains are also extremely comfortable and, for French domestic travel, are on a par with flying for convenience and speed, as you don't have to go through the rigmarole of collecting baggage and checking in.
When travelling on a TGV, you will be allocated a particular seat but, on normal trains, you can just sit anywhere. However, regardless of which train you are on, you will need to validate your ticket. If you bought your ticket from the cashier at a station, they will have validated it for you. If you have used any other method of getting your ticket though – for instance, the self service machines – you will have to use the red validation machines before boarding the train. Your ticket needs to be validated at each connecting station you use and at the station of departure on your return journey.
You can purchase a Carte 12-25 from the ticket counter in any station which entitles the bearer to a discount of up to 50% on rail ticket prices. You will need identification proving that you are under 25 and a passport photo when purchasing this card. The card costs about £30 so, if you are doing a reasonable amount of travel, this is a good option.
You can also purchase a France Rail Pass, which allows you between 4 and 10 days travel within a 1 month period and is also available at a discount rate for those under 25. These passes can be purchased online at Railkey and are very good value if you intend on travelling around a lot. If your time in France is only one leg of your journey, however, you might want to consider buying a pass that is valid Europe-wide. See our European rail travel section for more details.
Bus travel is generally expensive and inconvenient in France and should only be used to reach areas not covered by the rail network. Eurolines offers some international services connecting the Paris Gare Routiere to major European cities. Busabout offers backpacker based tours which are generally hop-on, hop-off style services that drop you at hostels in the destination town.
Buses, on the other hand, are perfect for local travel within a town. These are normally cheap and you can buy passes which last between 1 hour and a week on the bus. When in larger cities, particularly Paris, the metro is the easiest way to get around but you will often find that the bus tickets and metro tickets can be used more or less interchangeably.
Accommodation
There are hundreds of hotels and youth hostels throughout France and you should have no problem finding inexpensive accommodation whatever region of France you are in. For low cost youth hostels visit the French Youth Hostels Federation. There are also state regulated bed and breakfasts called gites-de-france, which are generally inexpensive and are regulated by the Fédération Nationale des Gî tes de France, a non-profit independent organisation focused on ensuring correct standards of accommodation for visitors.
Health
With the proper travel insurance and a valid EHIC card (available from your post office), you will have no trouble getting high quality medical care in France.
There are no specific health warnings given and tap water in urban areas is considered drinkable. When staying on French campsites, be sure to use water from the drinking water tap. Holiday makers drinking from taps designed to be used for washing clothes and the like have inadvertently given French water a bad name.
Useful Links
France Guide – The official website of the French Government Tourist Office, packed with information for visitors.
Campsites France – A very useful searchable directory of campsites all over France.
Ze Bus – A hop on, hop off bus service allowing backpackers to visit the real France. Ze Bus offers a full service with departures from London travelling all the way down to San Sebastien.
Chamonix Ski Apartment – A 3 bedroom apartment within walking distance of ski-lifts in Les Houches, Chamonix, France.
Bergerac Airport – An unofficial guide to Bergerac Airport, from Jeff Steiner.
Go Camp France – All the information you need for a camping holiday in France.
Travel France Online – A Free Online Travel Resource that helps you discover and enjoy French History and Culture.
Entry Visas for France
A valid passport is required for all except EU citizens who have a valid ID card. EU or US nationals do not need a visa for a stay of up to 3 months. EU nationals do not require a visa for a stay of longer than 3 months but must obtain a carte de sejour from the local Pr fecture. To find out more information, you can contact the following bodies:
French Consulate General (Visa Section)
PO Box 57
6A Cromwell Place
London
SW7 2EW
Tel: (020) 7 838 2000
Information Service – (020) 7 887 733
Fax: (020) 7 838 2046
British Embassy
35 rue du Faubourg St Honore
75383 Paris
Cedex 08
France Tel: + [33] (1) 44 51 31 00
Fax: + [33] (1) 44 51 31 27
There are also British Consulates in Amiens, Biarritz, Bordeaux, Boulogne-sur-Mer, Calais, Cherbourg, Dunkirk, Lille , Lyon, Marseille, Montpellier, Nantes, Nice, Perpignan, St Malo-Dinard and Toulouse.
Foreigner Work Permits in France
All EU nationals have the right to live and find employment in France but will need to apply for a residence permit (carte de séjour) if intending to stay longer than three months. Non-EU nationals must have arranged employment and Visas before they enter the country and need approval from the French Ministry of Labour. Once in France, EU Nationals can obtain residence permits from the local police (gendarmerie) or town hall (mairie), and will need proof of having found a job and somewhere to live.
Agricultural Work
Occupied far and wide by vineyards, France is a good place if you are looking for outdoor casual work. Fruit pickers are needed throughout the year, not only in vineyards, but picking apples, maize, and other local produce. The French National Employment Service (ANPE) is a good place to start looking for such work, see the website linked below for opportunities. Otherwise, simply turning up to farms and asking around for fruit picking jobs is a good way to find out.
However, although the harvest may be fruitful, the same cannot always be said of the wages. Farmers may pay depending on how much you can collect, the quality and worth of produce, or the time it takes, but don't expect to be earning a great amount from this kind of work. If the type of work is what appeals most, WWOOFis a voluntary organisation that provides work on organic farms and includes board and accommodation for a membership of €10 per year, check their website for more information.
Au Pairing
Most European countries cater extensively for those wanting to take jobs as au pairs for up to a year, sometimes longer. Expectations and duties do not vary dramatically across countries but, in France, au pairing (stagiare aide-familiale) consists of working for about five and a half hours each day, and taking a language course during the week.
As au pairs are live-in helpers, you can expect to receive free meals and accommodation from your host family. Most au pairs receive about €244 (approx. €172) per month, and those living near Paris should be provided with a Carte Orange travel pass for use on public transport. There are a number of au pair agencies for work in France, a database for which can be found courtesy of Europa Pages Au Pair Centre.
Disneyland and Walt Disney Studios
Disneyland is open in Paris throughout the peak tourist times and, during this period, employs more than 12,000 workers. The range of jobs available is vast, but examples include working in a restaurant or cafe, supervising rides, customer services, and even dressing up as a Disney character! Jobs are generally available between March and October, and knowledge of at least conversational French and a third language is necessary, but it could prove a good opportunity to improve linguistic skills.
Employment regulations state that less than 2,000 British must be employed at Disneyland. Those who do find work here can expect to receive around €1,082 (€762.60) for a month's work, consisting of 35 hours per week. Check the employment section of the Disneyland website for a list of jobs available. Walt Disney Studios offers similar job opportunities and wages as Disneyland. A good source for job vacancies on this front is the website of the French National Employment Service (see above).
Campsites and Adventure Holidays
Several British and European camping agencies operate throughout France, and again most jobs can be found during the peak tourist times in the summer. Eurocamp arranges work for couriers on French as well as other European campsites. Fluency in another European language is desirable, as the job involves welcoming and interacting with a range of visiting nationalities. Employees must be over 18, and can anticipate earnings of approximately €95 a week. Similar opportunities are available with Canvas Holidays, Club Mediterrán and Club Mar Estang.
PGL is a company that organises adventure holidays for children and centres can be found across Europe. Working for PGL as a helper or courier can earn you between €60 and €90 per week and board is provided, so you won't have to worry about finding and paying for suitable accommodation during your employment.
Ski Resorts
Ski resorts offer jobs not only in peak summer months but also during the winter. Jobs in the Alps recruits workers who are EU citizens and have an A-level in French or German. Although British Ski Instructor qualifications are not accepted in France, other opportunities for employment in ski resorts exist, such as work in hotels, restaurants, and even au pairing. You are expected to work 45 hours a week with two days a week free, earning up to €500 for the pleasure of working in the French Alps.
Volunteering
If money is not the main motivation for finding a job in your year abroad, voluntary work is an alternative. Vast opportunities can be found in all places, but particularly in the maintenance of historical and architectural sites. Voluntary work camps (Chantiers de Travail Volontaire) provide many openings for this kind of work, and a leaflet can be obtained from the Centre d'Information et de Documentation Jeunesse (CIDJ).
Useful Links
How to Say Common Phrases in French
Meeting People
English

French

yes

oui

no

non

thank you

merci

you are welcome

de rien

please

s'il vous plaît

excuse me

pardon

hello

bonjour

goodbye

au revoir

good morning

bonjour

good night

bonne nuit

I do not understand

Je ne comprends pas

Do you speak…?

Parlez-vous…?

English

anglais

French

français

What is you name

Comment vous appelez-vous?

Nice to meet you

Enchanté de faire votre connaissance

How are you

Comment allez-vous?

Good

bon

bad

mauvais
Directions
English

French

map

carte

left

à gauche

right

à droite

straight on

tout droit

far

loin

near

près
Methods of Transport
English

French

Where is…?

Où se trouve…?

How much is the fare?

Quel est le prix du billet?

Ticket

billet

A ticket to…, please

Un billet pour …, s'il vous plaît

Where are you going?

Où est-ce que vous allez?

Where do you live?

Où habitez-vous?

Train

le train

bus

un autobus

underground

le métro

airport

un aéroport

train station

la gare

bus station

la gare de bus

underground station

la station de métro

departure

le départ

arrival

une arrivée

parking

le parking
Time
English

French

What time is it?

Quelle heure est-il?

Today

aujourd'hui

yesterday

hier

tomorrow

demain
Accommodation
English

French

hotel

un hôtel

room

une chambre

reservation

la réservation

Are there any vacancies?

Avez-vous des chambres disponibles?

No vacancies

Complet

Passport

le passeport
Places
English

French

post office

la poste

bank

la banque

police station

le poste de police

hospital

hôpital

chemist

la pharmacie

shop

le magasin

restaurant

le restaurant

museum

le musée

church

une église

square

la place

street

la rue
Shopping
English

French

How much does this cost?

Combien cela coûte?

I will buy it

Je le prends

I would like to buy…

Je voudrais acheter…

Do you have…?

Avez-vous…?

open

ouvert

closed

fermé

postcard

la carte postale

stamps

des timbres

little

un peu

lot

beaucoup

all

tout
Meals
English

French

breakfast

petit déjeuner

lunch

le déjeuner

dinner

le dîner

vegetarian

végétarien

cheers!

à votre santé!

the bill please

l'addition s'il vous plait
Drinks
English

French

drink

la boisson

coffee

le café

tea

le thé

juice

le jus

water

l'eau

beer

la bière

wine

le vin
Food
English

French

meat

la viande

fish

le poisson

vegetable

le légume

fruit

le fruit

potato

la pomme de terre

salad

la salade

dessert

la dessert
Buy phrasebooks online at Amazon.co.uk
France Hostels
Hostels are a cheap form of accomodation, and so they are essential to backpackers and other budget travellers. We have compiled a list of hostels in France to help you plan your journey. If you are looking for a hostel in France, you've come to the right place.
Alsace
Aquitaine
Auvergne
Brittany
Burgundy
Centre
Champagne-Ardenne
Corsica
Franche-Comté
Languedoc-Roussillon
Limousin
Lorraine
Midi-Pyrénées
Nord-Pas-de-Calais
Normandy
Paris and Région Parisienne
Pays de la Loire
Picardie
Poitou-Charentes
Provence-Alpes-Côte d'Azur
Rhône-Alpes
There you have it, the ultimate France backpacking guide. We hope you have found all the information you need for backpacking around France.