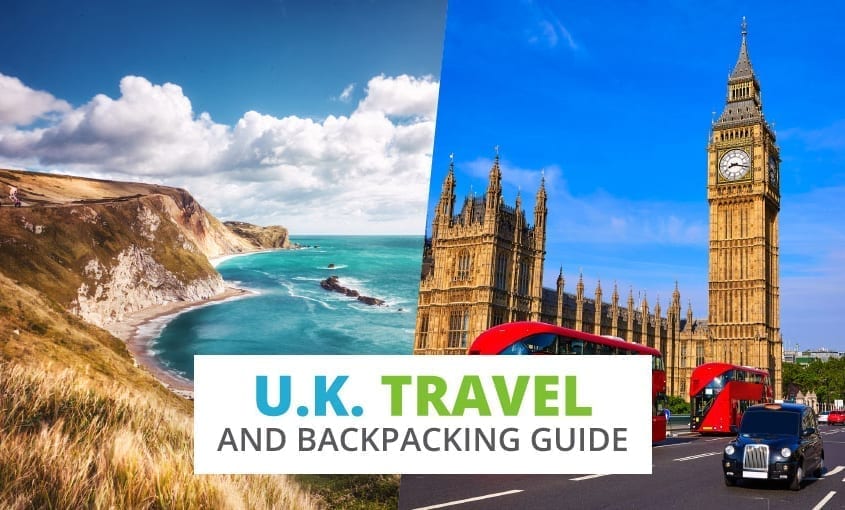 Backpacking UK
Looking for important travel information while backpacking in the UK? Here you will find information on working in the UK, entry visas, UK hostels, and much more.
Table of Contents
Facts About the UK
The UK spans England, Wales, Scotland and Northern Ireland and each of these is virtually a country in its own right when it comes to culture and history. With the bulk of the population in England most travellers focus their efforts here, but with easy access to train and bus services, it does not take much out of your schedule to visit the other areas of the UK.
Currency: Great British Pound (£) £1 = 100 pence
Time Zone: GMT
Language: English
Telephone Services: Country code +44, International Access code 00
Emergency Numbers: 999 for all services
Climate in the UK
When deciding the best time to visit the UK, the weather plays a big role. The climate in Britain is moderate in most respects; precipitation can be expected throughout the year but is worst in the winter periods. Summers can get reasonably warm but are generally short-lived.
Temperatures drop further north, the most northerly reaches of Scotland can be covered with a blanket of snow in the winter.
Things to do in the UK
When deciding the best things to do in the UK, there is an abundance of options. Here are the top bucket-list items when backpacking the UK.
London
England's prime attraction is undoubtedly London, the capital. One of the largest cities in Europe it really does offer everything, from the glitzy Trocadero to the colourful markets of Camden and the bohemian delights of Covent Garden.
Whilst in London you will also have the chance to immerse yourself in a great deal of history and culture either at one of the many museums and galleries, such as the National Gallery, or by visiting some of London's historic landmarks like Big Ben or the Tower of London. Famous sites include the London Eye and the eclectic O2 Centre.
Since London is one of the most visited cities in the world, it is wise to book tickets to popular attractions (landmarks, museums) ahead of time to avoid the lines. GetYourGuide sells entrance tickets at face value and you can avoid waiting in line. You might also see 'Skip the Line' tickets on their site. This actually refers to a separate entrance for a higher ticket price. It can be a worthwhile cost for mega attractions like St. Paul's Cathedral or the London Eye, which can have an hour-long wait time for General Entrance during peak tourist season.
Stonehenge
You should not, however, limit your stay to only London, getting outside the urban sprawl offers its own unique set of charms. England is blessed with over 30 stone circle sites, the most prominent being Stone Henge in Salisbury. Sites like this offer a completely different experience, especially if you happen to be travelling on an equinox or solstice when you will be exposed to some very colourful locals!
Gosport
If you would prefer a more active link to the past than standing stones, there is a Living Historical village in Gosport. An entire village circa 1642 has been recreated, complete with accurately costumed actors. This is more of a novelty than a history lesson; you will be able to try ale brewed using medieval methods and try your hand at other crafts and trades, but it is quite a good and unusual day out. You can find more information at the Living History Society website.
The English Countryside
It is also worthwhile venturing a little way out into the country as some of the best English pubs lie tucked away down long, winding country lanes. These pubs usually offer an excellent selection of local ale as well as traditional bar food.
England, however, is not all quaint culture and historical relics. In any major town or city you'll find all the exciting bars, clubs, cinemas and other nightlife you'd expect from a Western country, so if you feel like "living it up" for a night you will find plenty of opportunities.
Scotland
Scotland is more sparsely populated than England, with only a shade over 5 million inhabitants, but some of the most spectacular scenery that the UK has to offer. The Scottish Highlands provide an excellent backpacking destination with plenty of rolling hills and beautiful vistas – mountains like Ben Nevis attract thousands of walkers every year. There are ample youth hostels and campsites, and local facilities for tourists are generally well maintained and well run.
Edinburgh, Scotland's capital, is an incredibly multicultural city. Being both the centre for tourism in Scotland and home to 4 major universities there are plenty of people of almost every nationality present. It is not uncommon to overhear French, Spanish, German, and Chinese conversations in bars in the city centre.
From Edinburgh Castle to the infamous Ghost Tour, the Walter Scott monument and the Princes Street Gardens, there are plenty of things to see and do in this lively, historic city. Edinburgh also plays host to jazz and fringe festivals throughout the month of August, where you will be able to see a wide range of off-beat entertainment and, most importantly, drink in bars for 24 hours straight!
Glasgow, Scotland largest city and former industrial town, is Scotland's nightlife and shopping hub. With a range of facilities only rivalled by the largest of English towns, Glasgow is the place to come to spend a few days doing some serious partying and spending some money. Less touristy than Edinburgh but still very popular with visitors, Glasgow is known for its friendly locals and vibrant city centre. The city has experienced extensive regeneration over the past few years.
Wales
Like Scotland, Wales is sparsely populated outside of the main cities, and there are huge areas of unspoilt wilderness in the country. From the mountains and valleys of Snowdonia to the famous gorge of Wye you will find a lot of natural beauty within Wales' borders.
Particular attractions include Caernarfon, known for its Medieval castle and walls; Snowdonia National Park, a well-run mountain preservation area; and the imposing cliff tops of the Pembrokeshire coastal area.
Capital city Cardiff boasts all the facilities one would expect from a large UK city, and coming a close second Swansea also has an impressive array of bars, pubs and clubs.
Northern Ireland
Northern Ireland has sadly received attention in the press for all the wrong reasons. It is, however, a long time since atrocities like Bloody Sunday were committed in the name of a now-defunct political cause. What violence still exists is now isolated between rival factions in very specific housing estates in Belfast.
There should be no doubts as to safety when travelling to Northern Ireland, and as long as you stay out of the rougher areas of Belfast it is perfectly safe to visit the region's capital city. In reality, it is no more dangerous to visit Belfast than it is to visit some inner-city areas of London.
Some of the more famous attractions include the unusual volcanic geography of the Causeway coast and the charming and artistic county of Derry. Although not a major tourist destination, a short ferry trip will allow you to spend some time in Northern Ireland and could perhaps be incorporated into a visit to the more popular Republic of Ireland.
Unique activities in the UK
Since popular places in the UK can get crowded during tourist season, it is wise to reserve tickets and activities ahead of time. GetYourGuide sells entrance tickets to museums and landmarks at face value so you can avoid the lines and save that precious time for more exploring.
Viator is another popular travel website that helps you book things to do in the UK. They work directly with local tour operators in the UK, so you won't have to scour the internet or roam around town trying to find the best deal.
If you know your schedule ahead of time, a great insider tip is to buy tickets for major tourist attractions ahead of time. Tiqets has entrance tickets and skip-the-line passes for major attractions in London and other hotspots, which can be a worthwhile cost during peak tourist season.
How to Get Cheap Flights to the UK
In order to find the best flights to the UK we recommend using a few well-known flight comparison search engines. These websites offer powerful search options, like entering flexible dates and airports in order to find the cheapest flight to the UK.
Our go-to flight search engine is Skyscanner, which we love for its extremely flexible search options. Our favourite way to get travel inspiration is their "Everywhere" feature. Simply enter "Everywhere" as a destination, and it will then list all available flights from your departure city in order of price. This also works when entering the entire country of the UK as your destination. Skyscanner will search all possible airports in the country in order to find the cheapest option.
Kiwi is another new favourite flight search engine among savvy travelers. Kiwi works by combining flights from different carriers in order to get the best deal. Also, if there is a better ground or ferry option for the route you're searching, Kiwi will include that in the search results. On average, we have found the cheapest flights to the UK with them compared to the other websites out there.
How to Travel Around the UK on a Budget
Train and long-distance bus are the standard modes of transport for how to get around the UK. Buses are the more economical option, nevertheless, they are well-equipped with the usual modern conveniences that expect when travelling in Europe. Train travel, on the other hand, is the fastest way between two cities in the UK, and the train stations are conveniently located right in the center of town.
Certain routes are better suited to one mode of transport than the other. To compare your options for journeys from A to B, you can try Omio. They compare trains, buses (and even flights) so you can decide for yourself the tradeoff between cost and travel time.
For finding a carpool option between cities in the UK, you can use BlaBlaCar, which is a favorite mode of transport among budget-savvy locals. Just search for your destination, pick the date you want to travel and you'll see different carpool options. Some rides allow you to book instantly, while others require the driver to approve manually. The BlaBlaCar site defaults to German but you can change the language at the bottom of the page.
Train travel in the UK
Travel is relatively easy but can be a little expensive throughout the UK. A key purchase if you're under 25 is a Young Person's Railcard. These passes cost about £20 and will save you 30% on most train journeys and some long distance bus journeys. They are available from all major railway stations.
BritRail offers a range of rather expensive unlimited travel passes which are accepted on most rail services throughout the UK. This could be a good bet if you intend to cover a lot of ground.
The National Express Tourist Trail Pass is a much more affordable means of getting around. This pass allows you unlimited travel on National Express buses (by far the largest inter-city operator) to any of over 12,000 different destinations throughout England.
When travelling in London by far the easiest and cheapest way to get around is using the underground (Tube) system. A one-day travel pass can be bought at all Tube stations and allows you unlimited Tube and bus travel in marked "zones" of London.
Be aware, however, that during rush hour the underground system is absolutely mobbed, and travelling during these periods can be an uncomfortable experience for first-time travellers. In order to avoid this, simply avoid travelling close to 9 am in the morning and 5 pm in the evening – leaving a half hour leeway should give most of the crowds time to die down.
Driving in the UK
If you are staying in the UK for a long time, and you want to travel all of the UK, then it might be a good idea to look into buying a car. You can pick up a cheap car for less than £500. However, there are many extra costs to having a car in the UK.
You must make sure that you have valid insurance, tax and an MOT. It is also a good idea to get breakdown cover if it is an older car. PetrolPrices.com have compared all the leading breakdown cover providers to help you find the best cover, whether you are travelling all over the country, or just want roadside assistance.
You may also want the flexibility to stop in smaller towns between the major cities. If you decide you want to rent a car, you can use DiscoverCars to compare offers from the major car rental agencies in the region.
Ferries in the UK
Ferries are commonly used to travel around the UK since it's made up of hundreds of miles of coastline and a multitude of islands. 
Ferries link several offshore islands with major coastal towns and ports. They run from four to eight times a day depending on the season. Ferry Scanner provides further information and the schedules for the local ferries.
Backpacker Tours in the UK
Though part of the fun of backpacking the UK is exploring on your own, there are situations, especially when venturing off the tourist trail, when it does make sense to go with a guide or a small group. 
The most popular option for social travel in the UK is Contiki tours. Contiki trips offer more than just transportation, they are organized social group travel for travelers aged 18-35. Whether you're traveling by yourself or going with a group of friends, Contiki tours are perfect for people looking to have a blast, meet new friends, and form lifelong memories. They offer tours that travel primarily in the UK or longer tours that cover other nearby places.
G Adventures is another great option for organized travel, but with a smaller group. It's a great choice for anyone backpacking the UK alone who would like to meet up with like-minded travellers. It's also a practical option for exploring places where you need an experienced guide, like a long hiking adventure or visiting a place well off the beaten path. You can choose from different styles of small group tours like active, wellness, hiking trips, 18-30somethings, and more. Their most popular trips in the UK are their 12-day Budapest to London on a Shoestring tour or their 7-day London to Rome Adventure tour.
Health and Safety in the UK
Healthcare is good in the UK. There are excellent health care facilities with well-trained staff within easy reach of all but the most remote locations. You will receive a high standard of medical care should you fall ill or are involved in an accident; however, as with travel to all other countries abroad, it is vital that you get travel insurance before you leave.
Even for short trips, our go-to travel insurance provider is World Nomads, which is also recommended by Lonely Planet, HostelWorld, and other major travel companies.
Tap water is considered safe to drink and there are no special immunisations required unless you come from an area with a high rate of diseases such as polio, typhoid or yellow fever. If this is the case you will need to have a vaccination and obtain a certificate to show you are not infected with any of these diseases before entry. These will be available from a local doctor.
Entry Visa Requirements for the UK
A valid passport is required for everyone except EU nationals with a valid ID card. A visa is not required for a stay of up to 3 months for nationals of the European Union (EU) or European Economic Area (EEA). If you intend to stay for longer than 3 months or wish to work in the UK you should contact your local British Embassy.
Visa requirements for the UK can vary widely depending on your country of origin and can change over time. To avoid any unpleasant surprises, be sure to check the latest visa requirements while you're still planning your trip.
Foreigner work permits and backpacker jobs in the UK
The current minimum wage in the UK for those aged 18 to 21 is £4.45 per hour, and £5.35 per hour for those over 22. Non-EU nationals will find it difficult to obtain legal work in the UK and will firstly need a six-month tourist visa and a work permit if intending to find legal employment. Work permits will prove difficult to come across for non-EU nationals without particular work skills.
Casual Work in the UK
The list of casual job opportunities in the UK is endless but would most commonly be found in pubs, restaurants, bars, clubs, hostels, and hotels. Jobs in pubs and restaurants vary in wage but hold the advantage of customer tips in addition to an hourly rate from an employer.
Furthermore, many employees in pubs are provided with accommodation for the duration of their employment, but bear in mind that wages are bound to be reduced if this is the case. The best way to find these types of jobs is to ask around, look in local newspapers and on noticeboards.
Activity Camps
PGL is the UK's leading provider of residential activity holidays for children, with centres across the UK, France and Spain. Working for PGL in a variety of roles and locations including as Activity Instructors, Watersports Instructors, Children's Group Leaders, Field Studies Instructors, Catering Staff, Housekeeping Staff, Drivers, French-speaking roles and Administrators, offers the opportunity to work with like-minded people in a supportive environment in some of Europe's most stunning locations, with a competitive four-weekly wage, free food and accommodation provided.
Volunteering in the UK
Countless charities and volunteer organisations exist in the UK, and opportunities depend on what you are looking for. Many volunteer placements include free accommodation and food but make sure you establish this before beginning work. Below are just a few examples of different volunteer experiences available. Youth for Britain can supply a database of thousands of placements in the UK and worldwide, so if you are serious about volunteering in your gap year it is worth contacting them for more details.
Camphill Communities
Camphill Communities run volunteer placements across the globe. Volunteers work in communities with adults with special needs. You will be expected to work for 6 days a week and it is usually preferred that you stay for at least one year. Accommodation is provided for the duration of your stay, but you will have to fund your own meals.
The Pennine Camphill Community is just one place in the UK that you can demonstrate your volunteer skills, and volunteers do not have to commit to full-time work but instead can volunteer for just a few hours a week. There are also communities in Scotland; see the Camphill Scotland website for more details.
Ffestiniog Railway
Ffestiniog Railway in North Wales is the oldest independent railway in the world and is surrounded by the beautiful countryside of Snowdonia. It recruits volunteers to help operate trains, work in catering, and workshops, etc. Volunteers are unpaid and are expected to find and fund their own accommodation, but for £3 per night, you can rent a bed in a local hostel, reduced to £2 per night after twenty nights' stay.
The National Trust
The National Trust has many registered buildings throughout the UK and requires volunteers to help with their running, whether it be working in the houses and offices or management of the environment.
Community Service Volunteers
Volunteers work for four to twelve months on various projects around the UK, including conservation and environmental programmes. Accommodation, food, and a £24.50 weekly allowance are included on all projects.
Edinburgh Cyrenians
Volunteers work in communities for homeless young people, helping with activities for residents and carrying out domestic tasks. Two communities exist: one in Edinburgh and the other in West Lothian. Although volunteers are expected to pay for travel expenses, once on the programme they are provided with food, accommodation and about £30 weekly pocket money.
Useful Addresses
7 North Street Workshops Stoke sub Hamdon Somerset TA14 6QR
Youth for Britain Higher Orchard Sandford Orcas Sherborne Dorset DT9 4RP,
Useful Links for finding work and volunteer projects in the UK
Camphill Communities provides a database of links to various Camphill Communities around the world.
Camphill Scotland provides links to Camphill Communities in Scotland.
PGL organises adventure holidays for children and provides jobs across Europe.
Visit festrail.co.uk for more information about the Ffestiniog railway.
The National Trust is responsible for many of Britains heritage sites
UK Hostels

Accommodation is easy to find, although it can be quite expensive.  The best bet for those on a budget would be to stay in serviced apartments and bed & breakfasts (B&Bs) which are common in most large towns, or in Youth Hostels, which are also easily found.
Roadside Travel Inns on most of the UK's main motorway routes aren't too pricey and are convenient places to stop after a hard day's travelling.
We have had good experiences finding hostels in the UK on HostelWorld. They have the largest inventory of hostels worldwide, and with over 10 million reviews and ratings from other travellers, you know exactly what to expect.
Another good way to find accommodation in the UK is by checking booking.com. You'll find hotels, homestays, hostels, and other unique accommodations. They have the most reviews and advanced filtering of any accommodation-booking site, so you'll be sure to find a great place in your budget. Many of the places on booking.com also offer free cancellation, which takes the pressure off the planning phase of your trip to the UK.
If you are backpacking with another travel companion, we highly recommend booking a rental via VRBO. With a vacation rental in the UK, you'll have more space, your own kitchen, and you'll get a better feel for how the locals live. Plus, the cost of a vacation rental can be split among your group, oftentimes making it cheaper than doing individual hotel rooms. 
If you're looking to save even more money while backpacking in the UK, there are plenty of creative ways to get free accommodation in exchange for work in the UK. For example, one of our favorite ways to stay in amazing locations for free is by signing up as a petsitter with Trusted Housesitters. The site connects responsible animal lovers with petsitting opportunities in the UK and all over the world. It's a win-win for both sides – travellers can stay in amazing locations for free, and homeowners can rest easy knowing that someone is watching over their place.
And lastly, CouchSurfing is a great community that connects travellers with local hosts in the UK. You can stay for free with verified hosts, who will usually take some time to show you around the local spots.
Useful Links for Backpacking in the UK
National Express is by far the largest inter-city bus operator.
Omio

– Train, bus, and flight search for

the UK

and all of Europe. Offers online booking and mobile tickets

DiscoverCars –

The world's leading rental car search engines to rent a car in

the UK 

Kiwi

and

Skyscanner

– Flight comparison search engines to find the cheapest flights to

the UK

and within the country

GetYourGuide

and

Viator

–

a collection of local tours and activities in

the UK

. Also offers Skip the Line tickets for crowded attractions

Tiqets

– Website selling entrance tickets and skip the line tickets for major tourist attractions in

the UK

GAdventures

– guided small group tours in

the UK

, great for solo travellers or for those interested in a more adventurous trip which would require a guide

HostelWorld

– #1 hostel search website to find accommodation while backpacking the UK. Thousands of hostels and millions of reviews from fellow travellers

Booking.com

– commonly used booking site for accommodation in

the UK

. Find hostels, hotels, and other unique accommodation in

the UK

with advanced filtering and millions of reviews

World Nomads Travel Insurance

– Comprehensive travel insurance for long and short trips when backpacking

the UK

Visit Britain is the UK government tourism website.
Visit England – Tourist information for those visiting England.
Visit Scotland – Tourist information for those visiting Scotland.
Discover Northern Ireland – Tourist information for those visiting Northern Ireland.
Visit Wales – Tourist information for those visiting Wales.
---
There you have it, the ultimate UK backpacking guide. We hope you have found all the information you need for backpacking around the UK.
Next up:
Liked this article? Share it with others who might be after the same information!