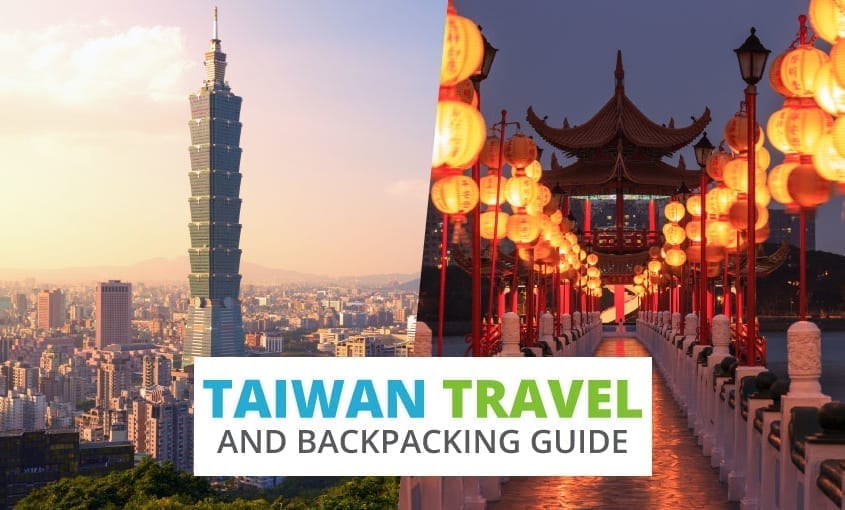 Backpacking Taiwan
Looking for important travel information while backpacking in Taiwan? Here you will find information on working in Taiwan, entry visas, Taiwan hostels, and much more.
Table of Contents
Facts About Taiwan
Gone are the days of huge smog-filled cities and factories in Taiwan as much of the industry has moved to China. There is much on offer to travellers in the form actively used ancient temples, tiny rice farming villages and fantastic unspoilt mountain ranges shrouded in a carpet of clouds.
Modern and traditional Taiwan coexist side by side, meaning that travellers have quite a good choice of things to do in Taiwan, on one day you could be trekking through foothills or visiting Buddhist monuments and on the next day you could be shopping or sampling the nightlife in one of the country's bustling towns.
Currency: New Taiwan Dollar (NT$) = 100 cents
Time Zone: GMT + 8
Language: Mandarin
Telephone Services: Country code +886, International Access code 002
Emergency Numbers: 110 Police
Climate in Taiwan and the best time to go
When deciding the best time to visit Taiwan, weather plays a big role. The climate in Taiwan is generally subtropical, the temperatures in the north are more moderate and this region experiences a defined winter. The southern region does not have a winter season as such and is warm and sunny all year round, there is however a monsoon season from June to October.
Things to do in Taiwan
Taipei
Taiwan's capital is a city called Taipei, this city is home to about 6 million inhabitants and is easily the busiest city on the island. Although there are definite problems with pollution and traffic congestion, Taipei has the biggest selection of shops, bars and nightlife on the island.
The city centre also offers a selection of tourist attractions from the National Museum of History to Fu Hsing Dramatic Arts Academy, here visitors have the opportunity to take a tour of this remarkable institution and watch tradition Chinese opera, acrobatics and theatre.
The city also houses what is reputably the finest example of temple architecture in the country in the form of the Lungshan or "Dragon Mountain" temple. This temple was founded in 1740 and was built as a tribute to Kuan Yin, the goddess of mercy.
Tainan
No Asian country would complete without its temple town, in Taiwan the town of Tainan fills the niche nicely. There are over 200 temples in and around the town, many still in active use.
Highlights include the Taoist East Mountain temple where worshippers come to exercise ghosts or to communicate with their ancestors and the Mito temple which is famous for its statue of the 100 armed goddesses of mercy Kuan Yin. Visitors looking witness actual Buddhist practices should head for Luerhmen. This suburb contains three large temples which are in current use.
At each of them, you have the opportunity to have your name engraved on a temple artefact in exchange for a donation to maintenance costs. Once you have seen the temples the Woozland water park is close by and offers an excellent way to unwind after a hard day's temple touring.
Lanyu
A short ferry hop from the south-east coast of Taiwan takes you to the beautiful volcanic island of Lanyu. This tiny island has a tropical climate and is inhabited by Yami aborigines. The Yami speak their own dialect which is totally dissimilar to Chinese, whilst modern culture has influenced the Yami people there is still a lot of aborigine culture present.
For example, the Yami build their homes underground to avoid typhoons. There is enough of a Chinese influence for you to find restaurants and taxis so inexperienced travellers shouldn't feel too out of their depth when exploring this pretty little island.
Unique Activities in Taiwan
Another good way to get an idea of things to do in Taiwan is to scan the activities offered by Get Your Guide or Viator. They work directly with local tour operators, so you won't have to scour the internet or roam around town trying to find the best deal.
If you know your schedule ahead of time, a great insider tip is to buy tickets for major tourist attractions ahead of time. Tiqets has entrance tickets and skip the line passes for major tourist spots in Taiwan such as Taipei so that you can avoid the lines and save that precious time for more exploring.
How to Travel Around Taiwan
If you're flying to Taiwan or plan to take short flights within the country, we recommend using a few different flight comparison search engines. Kiwi is a new favourite among travellers. On average, we have found the cheapest flights to Taiwan with them compared to the other websites out there.
Of course, it is always worth checking Skyscanner to guarantee you're getting the best deal. Their site allows you to enter the whole country of Taiwan as your destination and will show you the cheapest airport to fly into. If your travel dates are flexible, you can see a full month's calendar of prices to choose the cheapest date to fly to Taiwan.
Train travel in Taiwan
The rail system in Taiwan is provided by the Taiwan Railway Administration. The service is quite good especially on major tourist routes such as Tapei – Kaohsiung or Tapei to Sun Moon Lake. Most cars are air-conditioned and some trains have a restaurant carriage. Fares are quite cheap and children under three travel free with under 13s paying only half fares. Tickets can be purchased from train stations or from most hotels.
Bus travel in Taiwan
The inter-city bus system in Taiwan is run by a collection of private companies with no real central resource. Fares are cheap but buses are often crowded, the best bet is to ask your hotel for details of bus services or find a tourist information point locally.
Travel within cities is generally accomplished by using local buses but Taipei has a partly finished monorail system which serves the city centre and some of the suburbs.
Backpacking Tours in Taiwan
Though part of the fun of backpacking Taiwan is exploring on your own, there are situations, especially when venturing off the tourist trail, when it does make sense to go with a guide or a small group. For these times, a popular option among backpackers is G Adventures. They hand-select local guides to ensure authenticity and quality. This is especially a good option for those travelling Taiwan alone who would like to meet up with like-minded travellers. Their most popular trips in Taiwan is their 10-day Taiwan Discovery Tour.
Taiwan Hostels & Budget Accommodation

There are over 450 tourist hotels in Taiwan ranging from small budget hotels right up to luxury "5 lotus blossom" hotels with extensive facilities such as pools, gyms and tennis courts.
There is limited hostel accommodation in Taiwan mostly centred around major cities or tourist hotspots. Both dormitory and non-dormitory rooms are offered at most locations. Many hostels will give discounts to members of the International Youth Hostel Federation.
We have had good experiences finding hostels on HostelWorld. They have the largest inventory of hostels worldwide, and with over 10 million reviews and ratings from other travellers, you know exactly what to expect.
Another good way to find accommodation in Taiwan is by checking hotels.com and  booking.com. With both sites, you'll not only find hotels, but also homestays, hostels, and other unique accommodation. We have discovered some great finds and have appreciated the ability to book ahead. You can use their advanced filtering to narrow your results by budget, location score, overall review score, and amenities. Many of the places on booking.com also offer free cancellation, which takes the pressure off the planning phase of your trip.
Entry Visa Requirements for Taiwan
All visitors to Taiwan must have a valid passport for the duration of their stay as well as proof of a return ticket. Visas are not required by US and EU nationals except nationals of Denmark, Finland and Ireland who do require visas.
Eligible EU and US nationals may stay without a visa for up to 14 days, this period can not be extended so stays of longer duration require a visa. Visas can be obtained from your local Taipei Representative Office and cost NT$25 for a single entry visa or NT$50 for a multiple entry visa.
Health and Safety in Taiwan
Healthcare in Taiwan is more than adequate and most western medications are available. Staff are well trained and competent and very close to the standards of the US or Western Europe. Healthcare is quite expensive especially for medicines which are not locally produced so comprehensive travel insurance is highly recommended.
Vaccination against typhoid is advised before departing for Taiwan. The appropriate vaccination can be supplied by your GP and should cost no more than NT$40. There are no other vaccinations required although you should consult your GP for up to the minute medical advice before you travel.
Tap water is not considered safe to drink and should be boiled or otherwise sterilised before use. Bottled water is recommended. Milk is usually pasteurised, long-life, or filtered to make them safe for human consumption. Meat should be well cooked and served hot, both fruit and vegetables should be washed and peeled before use. Normal precautions should be observed when purchasing food from street vendors.
Useful Links for Backpacking in Taiwan
The Taiwan Railway Administration operates the rail network in Taiwan

Kiwi

,

Skyscanner

, and

Opodo

– Flight comparison search engines to find the cheapest flights to Taiwan and within the country

GetYourGuide

and

Viator –

a collection of local tours and things to do in Taiwan. Also offers Skip the Line tickets for crowded attractions

Tiqets

– Website selling entrance tickets and skip the line tickets for major tourist attractions in Taiwan

G Adventures

– small group backpacking tours in Taiwan, great for solo travellers or for those interested in a more adventurous trip which would require a guide

HostelWorld

– #1 hostel search website to find accommodation while backpacking Taiwan. Thousands of hostels and millions of reviews from fellow travellers

Booking.com

– commonly used booking site in Taiwan. Hostels, hotels, and other unique accommodation with advanced filtering and millions of reviews

Travel Insurance

– read our comprehensive overview of Travel Insurance and some recommended providers for backpacking Taiwan
---
There you have it, the ultimate Taiwan backpacking guide. We hope you have found all the information you need for backpacking around Taiwan.
Next up:
Liked this article? Share it with others who might be after the same information!