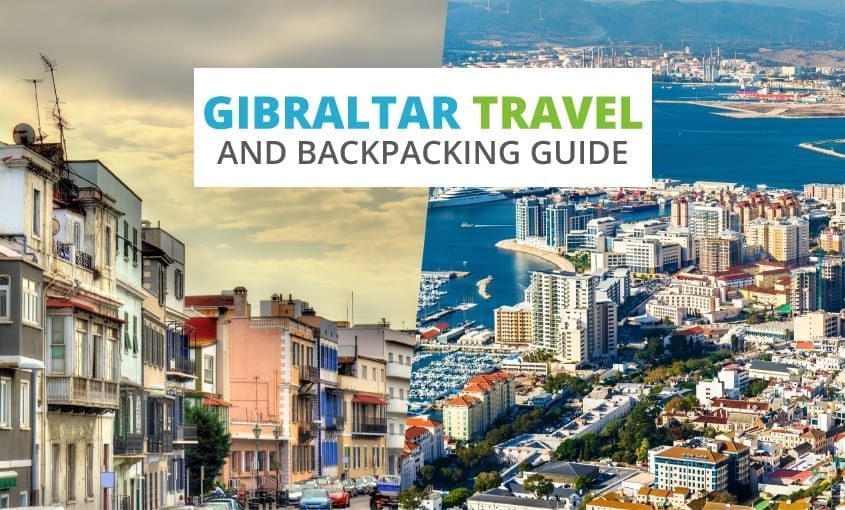 Backpacking Gibraltar
Looking for important travel information while backpacking in Gibraltar? Here you will find information on working in Gibraltar, entry visas, Gibraltar hostels, and much more.
Table of Contents
Facts About Gibraltar
Gibraltar is a British overseas territory situated at the far south of the Iberian Peninsula and facing the Strait of Gibraltar. The territory itself is just 2.53 square miles in area, with 7.5 miles of shoreline bookended by two coasts (the East Side and the West Side). The topography of Gibraltar is dominated by the Rock, being some 1,396 feet high, but the country is home to many beautiful natural sights and areas of cultural heritage.
Bordered with Spain but owned by Great Britain, the sovereignty issue has dominated and continues to dominate the history of the territory. Ceded in perpetuity by Spain in 1713 courtesy of the Treaty of Utrecht, which followed their defeat during the War of the Spanish Succession, the Spanish have made repeated overtures to Gibraltar regarding annexation. However, despite these persistent claims, the vast majority of Gibraltarians are vehemently opposed to any change in sovereignty. Indeed, Gibraltar's National Day – a public holiday on September 10th – celebrates the territory's rejection of annexation in 1967, and a later referendum in the 1980s saw a staggering 98.97% of the population re-iterate the stance.
As such, the British monarch is the chief of state on the Rock, represented on a day-to-day basis by the Governor of Gibraltar, elected on a 4-year term courtesy of the 15-man strong Gibraltar parliament. This connection to Britain is attested further in the list of key facts about Gibraltar:
Population – 27,921 (2005 estimate)
Language – English (although Spanish is commonly heard as well)
Telephone – Country Code +00350
Currency – Gibraltar Pound (UK currency is universally accepted, and the GP is equivalent to the pound sterling)
Time – GMT +1 hour
Climate in Gibraltar
Gibraltar enjoys a Mediterranean climate, with very warm, dry summers and decent but temperamental winters. The territory averages some 300 days of sunshine every year and rainfall is generally only early or late in the year. The following table represents the average quarterly temperatures:
Average temperature in Gibraltar

| Period | Celsius |
| --- | --- |
| January-March | 14 |
| April-June | 19 |
| July-September | 24 |
| October-December | 17 |
Things to do in Gibraltar
Climbing the Rock of Gibraltar is the obvious choice for tourists. The views from the Upper Rock are incredible, with Europe on one side and Africa on the other, and the journey is made easy by the cable car system in place.
Once on the Rock, you can also visit some of the other fantastic natural sights, such as St. Michaels Cave, filled with giant stalagmites and stalactites and forming a huge auditorium used for concerts by the local Philharmonic Society – a speciality is the Son-et-Lumiere show, held twice-weekly.
Try to make time for the Natural Reserve, which houses flora and fauna unique to Gibraltar. The Apes' Den, in particular, is remarkable, being home to Gibraltar's Barbary Apes, the only freely roaming ape species in Europe.
The sights don't end with the Rock either. Examples of fine local architecture include the Moorish Castle, established in full by 1333 with foundations dating back to the 11th century and containing both the Gate House and the Tower of Homage, and the Shrine of Our Lady of Europe, which is connected to the Europe Day public holiday on 5th May and houses a 15th century statue of the Virgin and Child. The Convent of Gibraltar is also worth a glimpse, being the official residence of the Governor of Gibraltar since 1728, along with the Cradle of History monument, which houses the first discovered skull of the Neanderthal man.
On Bomb House Lane, you will find Gibraltar Museum – the chief cultural repository on the Rock. It contains collections of weapons, costumes and other treasures which help recreate the local history – most notably, a Moorish Bath House.
In terms of relaxation and recreation, Gibraltar has six beaches on the shoreline, the most popular being Catalan Bay and Camp Bay, and Little Bay. The nearby Marina Bay is a centre for local activities, particularly if you're a dolphin lover, with tours such as Dolphin Adventure, Dolphin World and Dolphin Safari.
The food and drink on the Rock are also excellent, offering a diverse range of cuisine from Italian to French, Moroccan and, of course, Spanish. Main Street is the place to go for the best selection of eateries. Indeed, this thoroughfare is also the chief shopping location and, with all goods duty-free, Gibraltar is really a paradise for the shopaholic and perfect for provisions if you're on a long backpacking voyage.
Tours and activities in Gibraltar
A good way to get an idea of what to do is to scan the activities offered by Get Your Guide or Viator. They work directly with local tour operators, so you won't have to scour the internet or roam around town trying to find the best deal.
How to Travel to Gibraltar
Due to the Spanish government's relaxation of border controls in late 2006, Gibraltar can be reached via mainland Spain. The quickest method if you're travelling from outside Spain is to fly to Gibraltar Airport, which runs a very limited service but travels to Madrid courtesy of British Airways and Iberia Airlines and to London courtesy of British Airways and Monarch Airlines.
If you're flying to Gibraltar, we recommend using a few different flight comparison search engines. Kiwi is a new favourite among travellers. On average, we have found the cheapest flights with them compared to the other websites out there. Of course, it is always worth checking Skyscanner to guarantee you're getting the best deal. Another flight search site that can be hit or miss but still worth checking out is Opodo. For our past few trips, it was on their site that we found the flight that we ended up booking.
Once inside Gibraltar, the main form of transportation is the car, but there is an extensive bus service and taxis are available. It is important to remember that, although a British territory, driving is done on the right-hand side of the road and speed limit is 50 km/h. Caution should also be taken if driving, as the roads are narrow.
Driving in Gibraltar
If you need to rent a car, you can check AutoEurope or Europcar to compare offers from the major car rental agencies in the region. Before deciding, read more about what to expect of driving in Europe.
Health and Safety in Gibraltar
As part of the AEU agreement which applies due to Gibraltar's relationship with Britain, all you need to produce is a valid Form E111 to receive the same treatment as Gibraltarians should you fall ill. If you are a UK national, all you require is your passport.
The Primary Care Centre should be your first port of call unless it's a serious medical emergency, as they provide free medical and dental treatment, and can also sort out prescriptions. However, if more thorough medical assistance is required, St. Bernard's Hospital is the place to go.
Health-wise, travelling to Gibraltar is no problem, and no vaccinations are required.
Entry visa requirements for Gibraltar
No visa is required for UK citizens or EU citizens that are in possession of a valid national identity card. Travel visas are valid for stays up to 3 months.
Should you have any travel concerns, you can resolve them in the UK at the Passport Office in London's Globe House in Ecclestone Square. Once in Gibraltar, certain enquiries can be answered by the Immigration Department in New Mole House, which can be reached via e-mail at [email protected].
Foreigner work permits and backpacker jobs in Gibraltar
EU citizens and UK nationals are eligible to work in Gibraltar. However, if you are a citizen of a new EU member state, you must apply for a worker permit first. The labour laws in Gibraltar are largely parallel to those of the UK.
Gibraltar generally enjoys fairly full employment, but you can find jobs if you're prepared to search. Retail is an obvious option, as Gibraltar has many branches of major UK chains such as Marks & Spencer and Dorothy Perkins.
Once in a job, be warned that income tax is substantial, with 17% for the first GP4,000 of taxable income and 45% past the next GP11,000. However, the cost of living is far cheaper than the UK and the absence of VAT means your pay cheque will stretch a lot further.
Gibraltar Hostels and Budget Accommodation
If you have some cash to spare, Gibraltar has seven hotels, including the 4-star AA rated Caleta Hotel in Catalan Bay and the O'Callaghan Eliott Hotel in Governors Parade off Main Street.
If you want to book ahead, check hotels.com and  booking.com. With both sites, you'll not only find hotels, but also homestays, hostels, and other unique accommodation. You can use their advanced filtering to narrow your results by budget, location score, overall review score, and amenities. Many of the places on booking.com also offer free cancellation, which takes the pressure off the planning phase of your trip.
Other options include self-catering flats, of which there are three organisations available to meet your needs. However, the cheapest option – and the best one for backpackers – is to stay in a hostel. We have had good experiences finding hostels on HostelWorld. They have the largest inventory of hostels worldwide, and with over 10 million reviews and ratings from other travellers, you know exactly what to expect.
---
There you have it, the ultimate Gibraltar backpacking guide. We hope you have found all the information you need for backpacking around Gibraltar.
Next up:
Liked this article? Share it for others who might be after the same information!