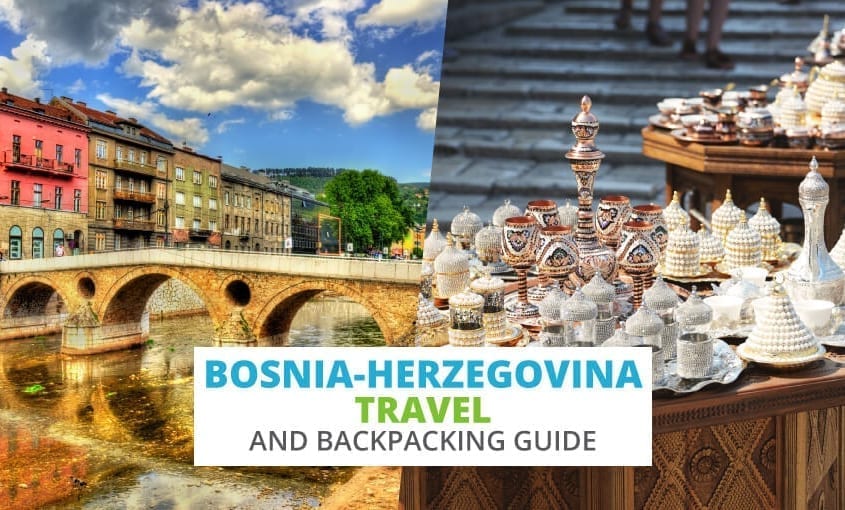 Backpacking Bosnia and Herzegovina
Looking for important travel information while backpacking in Bosnia and Herzegovina? Here you will find information on working in Bosnia and Herzegovina, entry visas, Bosnia and Herzegovina hostels, and much more.
Table of Contents
Facts About Bosnia and Herzegovina
Bosnia and Herzegovina is still recovering from the devastating war of the 1990s. Relations between Serbs, Croats, Muslims and other ethnic minorities are peaceful today but still far from easy, with unacknowledged voluntary segregation still in effect in parts of the country.
However, the country is safe and friendly and extremely cheap to travel around, all of which begins to explain why more and more travellers are choosing to visit. The Balkan state's artistic and historic cultures, its national parks and ancient cities and its breathtaking beauty are just some of the reasons why it is slowly but surely gaining international renown as an excellent holiday destination.
Climate in Bosnia and Herzegovina
Bosnia's climate is as varied as its terrain and as volatile as its politics. Generally speaking, Southern Bosnia enjoys the climate of Southern Europe long, hot summers and mild winters, while the mountains spend much of the year under a thick covering of snow and ice.
However, storms and high winds can blow across the Balkans at any time of year, and Bosnia is no exception. Indeed, the many factors influencing the weather, that is, Bosnia's geographical features which make and break different weather fronts, contribute to a capricious climate.
It's probably sensible to pack sunblock and a fleece whatever time of year you're going, and wherever you plan to travel to. Sarajevo, in particular, can burn you and freeze you in the course of 24 hours, as the mountain peaks force brief and extreme weather fronts over the city.
Because of this, there is not really a 'best' time of year to visit the country, Bosnia's springtime wildflowers, hot summers, golden autumns and frozen winters all have their advocates.
Top Things to do in Bosnia and Herzegovina
There are a multitude of places to visit while backpacking Bosnia and Herzegovina.
Sarajevo
Sarajevo is perhaps one of the most fascinating cities in the world, not only for its history and culture but also for its exceptional beauty. Home to the country's impressive national galleries, museums and libraries, Sarajevo also offers eclectic, attractive architecture, great views, great food and great shopping in its several ancient markets.
The town still bears the marks of war, and perhaps the best way to get to know it is just to wander around, taking in the atmosphere and the curious mix of ancient and Soviet-era architecture and watching people go about their business. The old town's pavement cafés have great views over the city and to the green hills beyond from here, it's difficult to believe the dark events of Sarajevo's recent history.
In winter, resorts such as Jahorina provide excellent skiing and snowboarding for the lowest prices in Europe, and are near enough to Sarajevo (less than an hour's drive away) to combine a city break with ski holiday or for the less sporty to escape from the slopes.
Mostar
Mostar is Herzegovina's counterpart to Bosnia's Sarajevo. The ancient bridge, destroyed during the war and rebuilt in 2003, is its most famous landmark. An amazing feat of engineering when it was first built, today it has become a symbol of the country's reunification. Mostar's ancient buildings, markets and narrow streets also attract travellers, and others still use the city as a base for hiking in the beautiful surrounding hills.
Banja Luka
Further north, adventurous travellers go rafting down rapids near Banja Luka. Indeed, across Bosnia and Herzegovina, it is possible to find small outfits offering hiking tours and watersports wherever available, with new tourist industries literally rising out of the rubble of the war.
But the rubble remains, ruined churches, buildings and sometimes whole settlements abound. As this is cleared away bit-by-bit, bits of the country's ancient and recent history goes with it, so even the ruins and remains are worth your attention.
Bjeslanica Hills
The untouched Bjeslanica hills and mountains in the South offer some of the best, and certainly some of the most remote, hiking in Europe. As well as the wildlife and the scenery, you can pass remote villages such as Lukomir where residents continue a way of life that has long since died out elsewhere. The organic, home grown and home-made food is fantastic, the people friendly and the villages and mountains are beautiful.
Unique Activities in Bosnia and Herzegovina
A good way to get an idea of top things to do in Bosnia and Herzegovina is to scan the activities offered by Get Your Guide or Viator. They work directly with local tour operators, so you won't have to scour the internet or roam around town trying to find the best deal.
Backpacking Tours in Bosnia and Herzegovina
Though part of the fun of backpacking is exploring on your own, there are situations, especially when venturing off the tourist trail, when it does make sense to go with a guide or a small group. For these times, a popular option among backpackers is G Adventures. They hand-select local guides to ensure authenticity and quality. This is especially a good option for those travelling alone who would like to meet up with like-minded travellers. Their most popular trips in Bosnia and Herzegovina is their 15-day tour called Adriatic Adventure-Zagreb to Athens.
How to Travel Around Bosnia and Herzegovina
Daily flights to Sarajevo from the UK are increasing, and prices are reasonable. For backpackers on a budget, it might be worth considering flying into Dubrovnik, which is just over the southern border in Croatia, with a bargain airline.
You can then take the 5-hour bus journey through southern Bosnia to the capital, or to other destinations within Bosnia, for a few pounds. The scenery is amazing but roads are full of hairpin bends and this is probably not a journey to undertake if you suffer from travel sickness.
If you're flying to Bosnia and Herzegovina or plan to take short flights within the country, we recommend using a few different flight comparison search engines. Kiwi is a new favourite among travellers. On average, we have found the cheapest flights with them compared to the other websites out there.
Of course, it is always worth checking Skyscanner to guarantee you're getting the best deal. Both websites offer great flexible search options, allowing you to search the whole country of Bosnia and Herzegovina to find the cheapest airport to fly into, and also see prices for a full month if you're flexible on travel dates. 
Train travel in Bosnia and Herzegovina
The country is a part of the Eurail network, which is a good choice if you plan to take multiple train journeys in a short period of time. To decide whether you should buy individual tickets from A to B, or whether you should purchase a Eurail pass, read our Travelling Europe by Train guide.
Within the country, travel is cheap and reliable, and passengers can enjoy breathtaking scenery as well as a comfortable journey.
Bus travel in Bosnia and Herzegovina
Across the Balkans, bus routes offer the most frequent and comprehensive public transport networks, and Bosnia is no exception. It is possible to get pretty much anywhere on the bus system, which is fairly priced and generally very reliable.
Most bus stops will have an information desk, but consult notice boards and try to ask locals and other travellers for information as well. Indeed, verify travel details with more than one person wherever possible, as times and prices can vary and even the locals may be unaware of changes to services. Furthermore, services can vary in price, journey-length and comfort level, so consulting those who know the system can make your journey more pleasant.
Driving in Bosnia and Herzegovina
Bad roads and worse drivers make driving in Bosnia an activity for the daring and the foolhardy. Car hire often works out as more expensive than bus travel but it does buy you independence and if you're intrepid enough to hit the roads, you can be rewarded with some stunning road trips. However, don't attempt to drive in the mountains during winter unless you have a death wish.
If you want the flexibility to stop in smaller towns between the major cities, check AutoEurope or Europcar to compare offers from the major car rental agencies in the region. Before deciding, read more about what to expect of driving in Europe.
Health and Safety in Bosnia and Herzegovina
UK residents can apply for a comprehensive, up-to-date report on health issues for travellers in Bosnia and Herzegovina. The personal report, which includes recommended vaccinations, foreign office travel health advice, advice on seasonal diseases and up-to-date health news, is available from the Medical Advisory Services for Travel Abroad (MASTA). The MASTA website also has details of locations of travel clinics to visit before you leave.
At the time of writing, UK guidelines stipulate hepatitis A vaccine, and advise you to be up-to-date with tetanus, diphtheria and polio shots before you travel. Check with your doctor for current guidelines.
National emergency healthcare is improving but remains frighteningly poor. Contact your embassy wherever possible and they will try to provide emergency healthcare of a higher standard. Failing that, it's well worth seeking out a private doctor or applying to the German military base in Sarajevo, which treats non-military patients. Private healthcare is still relatively inexpensive and should be covered on the most basic of insurance packages, though you may have to pay first and reclaim later.
Some of the sadder hangovers of the war, real threats such as land-mines, mean you are advised to buy fairly comprehensive insurance cover.
Don't let this put you off, though. Bosnia has seen enough violence over the past century and today it is one of the least intimidating, safest and friendliest places in Europe.
Entry visa requirements for Bosnia and Herzegovina
The Federation of Bosnia and Herzegovina is still recovering from the devastating war of the 1990s. Relations between Serbs, Croats, Muslims and other ethnic minorities are peaceful today but still far from easy, with unacknowledged voluntary segregation still in effect in parts of the country.
However, the country is safe and friendly and extremely cheap to travel around, all of which begins to explain why more and more travellers are choosing to visit. The Balkan state's artistic and historic cultures, its national parks and ancient cities and its breathtaking beauty are just some of the reasons why it is slowly but surely gaining international renown as an excellent holiday destination.
Hostels and Budget Accommodation in Bosnia and Herzegovina
It is easy to find a reasonably priced hotel in any town or city, but many of these are dank and somewhat depressing. It can be worth seeking out a more convivial hostel or even organising an apartment or a homestay, as these options are usually cheaper and often more pleasant than spending a night in a hotel.
We have had good experiences finding hostels on HostelWorld. They have the largest inventory of hostels worldwide, and with over 10 million reviews and ratings from other travellers, you know exactly what to expect.
Another good way to find accommodation in Bosnia and Herzegovina is by checking hotels.com and  booking.com. With both sites, you'll not only find hotels, but also homestays, hostels, and other unique accommodation. We have discovered some great finds and have appreciated the ability to book ahead. You can use their advanced filtering to narrow your results by budget, location score, overall review score, and amenities. Many of the places on booking.com also offer free cancellation, which takes the pressure off the planning phase of your trip.
Elsewhere, it's usually possible to find a guesthouse or a family who take paying guests. This is not only good value for travellers on a budget, it can also be a fantastic way of meeting locals, eating local food and improving your language skills.
Remember you're in somebody's home and try to respect your host's way of life, ask permission to smoke, inform them if you plan to stay out late, and so on. Most travellers find that their polite requests are dismissed with a laugh, but it's worth keeping in mind the fact that your hosts will not necessarily be familiar with your habits, particularly if your hosts are elderly or living in remote rural areas.
Renting self-catering accommodation is also good value for money, particularly for groups of travellers. If you're willing to take the risk and ask around on arrival, you can often find rooms in beautiful old buildings for next to nothing. Again, there are more options for travellers in Sarajevo and Mostar than elsewhere.
Official Language in Bosnia
Bosnia and Herzegovina recognises three official national languages: Bosnian, Croatian and Serb. However, the three dialects are extremely similar, with their separate names due largely to issues of national identity rather than to significant linguistic differences. Indeed, the nuances of the languages may well be lost entirely on the non-native Bosnian/Serb/Croat speaker.
The presence of international forces over the last few years has ensured that many Bosnians can understand bits of many languages (including English), though in more remote areas you are less likely to find someone able to translate.
In some parts of the country, the Cyrillic alphabet is used in place of the Latin, and it's worth learning these letters before you go if you are not familiar with them, as knowledge of the alphabet will be an enormous help in reading signs and labels, particularly as pronunciation is usually fairly straightforward. In addition, making the effort to learn a few basic phrases will also help you get by, and the courtesy will often be returned.
Useful links for backpacking in Bosnia and Herzegovina
---
There you have it, the ultimate Bosnia and Herzegovina backpacking guide. We hope you have found all the information you need for backpacking around Bosnia and Herzegovina.
Next up:
Liked this article? Share it with others who might be after the same information!