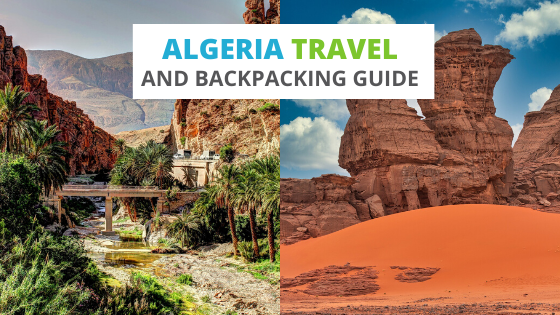 Backpacking Algeria
Looking for important travel information while backpacking in Algeria? Here you will find information on what to do in Algeria, how to travel around, hostels in Algeria, and much more.
Table of Contents
Facts About Algeria
The second-largest country on the African continent, Algeria shares borders with Morocco, Tunisia, Libya, Mali, Niger and Mauritania. It is split by the Atlas Mountains into a northern region, which has a Mediterranean coastline and where the majority of the population resides, and a southern portion, which is dominated by the formidable impasse of the Sahara desert. Around four-fifths of Algeria's landmass is made up of deserts.
The country was fought over by Berber, Ottoman and European powers and then eventually colonised by the French in 1850. Algeria effectively became an extension of the French mainland until the 1950s, and the cities were settled by huge numbers of Europeans.
The confiscation of previously communal land and the imposition of French cultural and political values bred great resentment among the native Arab population, which catalysed the 1954 Battle of Algiers. This guerrilla conflict was immortalised in Giles Pontecorvo's film The Battle of Algiers; essential viewing for anyone with an interest in colonial conflict or modern French or Algerian history.
Since independence, Algeria has seen political turmoil, with an oppressive, bureaucratic government resisted by Islamist factions. However, the violent activity has gradually subsided, and the high price of oil and gas has given the government cash to invest in infrastructural developments. However, some parts of the country are still dangerous (a number of European tourists were taken hostage in 2003). Check the FCO's travel advice pages for updates.
Climate in Algeria
The northern coast of Algeria contains most of the country's settlements, including the capital Algiers, and Oran. They have southern Mediterranean climates and are mercifully cooled by the sea breeze.
A typical August temperature is 30 degrees Celsius, dropping to around 12 degrees Celsius in January. The coastal regions have relatively high humidity, with Algiers at around 60 per cent occasionally. In the winter, it can be subject to fairly high rainfall, with 700mm falling annually. This is comparable to Oslo in Norway.
As you move further south from the coast, through the Sahel into the Sahara desert, the climate becomes much more severe and potentially dangerous. Rainfall is minimal; quite often whole years will pass with no days of rain in the heart of the Sahara.
No backpacker should venture into this region without an experienced guide. The extreme heat and lack of water make for dangerous travelling. You should also be aware that although daytime temperatures are extremely high in the Sahara, temperatures plummet once the sun sets, as there is no cloud cover and no moisture in the air to trap the heat.
Tamanrasset is the only major settlement in the south of the country. Its high altitude makes it cool enough in the day for human life.
Things to do in Algeria
The country's tourist facilities are gradually building up. Up until a few years ago, the country was largely avoided by holidaymakers because of the violent political unrest found all over the country. A good way to get an idea of things to do in Algeria is to scan the activities offered Viator. They work directly with local tour operators, so you won't have to scour the internet or roam around town trying to find the best deal. This is also a good way to ensure that you get the most out of your trip.
Algiers
Algiers is a vibrant port and one of the biggest cities in North Africa, with a population of between 3 and 5 million, depending on where you draw the city's boundaries. The town is built on a hill next to the ocean. It is crowned by the magnificent 'Kasbah quarter', one of the finest collections of North African buildings in existence.
A backpacker should take some time to explore the streets and squares lined with pristine white palaces and mosques. This is where many of the official buildings of the city are found and used to contain the residences of the cities nobility and wealthiest merchants.
Villages along the Coast
A trip along the coast to some of the fascinating villages is well worthwhile. You can hire a fishing boat from Bous Ismail, or wander in the markets of Tipaza and Berad. These villages are good places to hunt for bargain souvenirs. However, remember that when haggling with the artisans and vendors the difference made by a couple of Dinar is much greater for them than it is for you.
Beach Resorts
There are some fine resorts to be found within easy distance of Algiers. Zeralda, the Turquoise Coast and the Sidi Fredj peninsula boast beautiful beaches ideal for snorkelling and other watersports. 10 miles outside of Algiers is Kiffan Club, Algeria's only water park. Close to Algeria's second city of Oran, which is largely an industrial and commercial centre, are the Ain El Turk and Les Andalouses beaches, replete with a variety of hotels.
In terms of facilities for those on holiday, Algeria is lagging behind its Tunisian and Moroccan neighbours. However, if and when the political situation stabilises, the country's proximity to Europe will make it a prime destination for those looking for a Mediterranean resort with a difference.
Tassili N'Ajjer National Park
Tassili N'Ajjer is a beautiful national park and a designated UN World Heritage site. Its isolation and peaceful atmosphere are in huge contrast to the buzzing of the cities on the northern coast. The park's high altitude makes it a pleasant environment for a trek, although a knowledgeable guide is essential.
There are numerous examples of ancient rock art, and anyone with an interest in anthropology or archaeology will be fascinated by the figures of now-extinct animals, hunters, and their weapons. The earliest engravings are believed to date from around 5000 BC. This is also an area for geologists — eroded sandstone formations form fascinating 'forests of rock'.
How to Travel Around Algeria
The only land border crossing recommended for use is the one with Tunisia. You can take the train or drive a vehicle, but if you are driving, be prepared for tight security checks. Driving long distances through remote regions is not recommended, as banditry is a problem in certain areas.
Train travel in Algeria
The rail network is reasonable and tickets fairly cheap. However, stations can be quite intimidating places. Take your time identifying which train you need and which platform it departs from, arriving in plenty of time. Don't get distracted by the variety of vagrants who may approach you. Keep your belongings close at all times.
Flying to Algeria
Houari Boumedienne is Algeria's main international airport and has regular flights to various European destinations, including London Heathrow.
If you're flying to Algeria or plan to take short flights within the country, we recommend using a few different flight comparison search engines. Kiwi is a new favourite among travellers. On average, we have found the cheapest flights to Algeria with them compared to the other websites out there.
Of course, it is always worth checking Skyscanner to guarantee you're getting the best deal. Both websites offer great flexible search options, allowing you to search the whole country of Algeria to find the cheapest airport to fly into, and also see prices for a full month if you're flexible on travel dates. 
It is fairly common for European travellers to arrive by ferry. You can sail from Marseilles to every major Algerian port, from Alicante and Barcelona to Algiers, and Naples to Algiers and Oran.
Health and Safety in Algeria
Two to four weeks before travelling to Algeria, you should get a Hepatitis A vaccine. If you are going to be living amongst locals for a substantial amount of time (for example, if you are taking part in a volunteer programme) you should also be vaccinated against Hepatitis B.
Unlike its North African neighbours, Algeria doesn't have a Malaria problem, so travellers will be relieved to know that prophylaxis is not necessary. However, taking a course of antimalarials is highly recommended if you are travelling elsewhere in the region.
Most travellers will take some time to adapt to local food and water, and a little bowel trouble is common. However, if the diarrhoea becomes persistent, seek medical advice or begin using anti-diarrhoeal drugs. There are certain precautions you can take to minimise the risk of digestive problems.
Tap water should not be drunk anywhere. Ensure all your beverages are from a bottle and not served with ice, no matter how tempting! Fruit and vegetables should be peeled and cooked properly, and only eat meat from reputable venues (i.e., not street vendors). Even in restaurants, avoid potentially toxic fish. These include Red Snapper, Sea Bass and Barracuda.
Whilst in the countryside, protect yourself against insect bites and tick infestations by wearing long-sleeved shirts and trousers. Check your shoes, bed and skin every night. If you catch ticks early, they can be removed with tweezers. If you become ill after receiving a tick bite, you will need to seek medical attention.
Hostels and Budget Accommodation in Algeria
Good accommodation for backpackers in Algeria can be hard to find. The cheaper hotels are often badly run and hard to get into, even if you book in advance. They are generally intended for Algerians on business. Foreign visitors on business tend to stay in the luxury hotels that are probably outside of the backpacker's budget.
Your best bet is to check around the bus terminal and railway station for vacancies. All hotels are rated by the government: 5 star is luxury, 3 or 4 stars is second class, 1 or 2 is traveller class.
Hostels are a cheap form of accommodation, and so they are essential while backpacking Argentina on a budget. booking.com is a great place to start. It has a selection of hostels with reviews from fellow travellers, so you know exactly what to expect.
Useful links for Backpacking in Algeria
---
There you have it, the ultimate Algeria backpacking guide. We hope you have found all the information you need for backpacking around Algeria.
Next up:
Liked this article? Share it with others who might be after the same information!